Why, When, and How to Choose an Internal Frame Pack
By Kifaru - Amanda Roe & Eric Bender
Want to get into a high quality pack but not sure where to start or don't want to invest in both a pack and frame? You should consider an internal frame pack, and here's why. 
Choosing a pack comes with a laundry list of questions such as a) what are you doing with the pack; b) how many days will you be packing in for; c) if you're planning to pack out meat, do you want to put meat inside or outside of your pack; and d) what are your sizes (height, weight, pant waist size, and pant length/inseam)? When talking to a customer service representative or making your decision online, these are all questions that you will want to think about before selecting your pack. Each of these questions help our team guide you to the best pack setup for your needs.
Let's start with the basics: external vs. internal frame packs. External frame packs are those which are designed with the frame on the outside of the pack. All of Kifaru's external frame packs have the ability to separate the bag off of the frame to either switch the pack to a different model, to use the meat shelf in between the pack and frame, or to run the frame by itself (aka a la carte). Internal frame packs, on the other hand, are packs that are integrated/built with the frame and cannot function without each other. (To clarify a common confusion, the packs that go onto the external frames will need to be used with the external frame and cannot be used by themselves).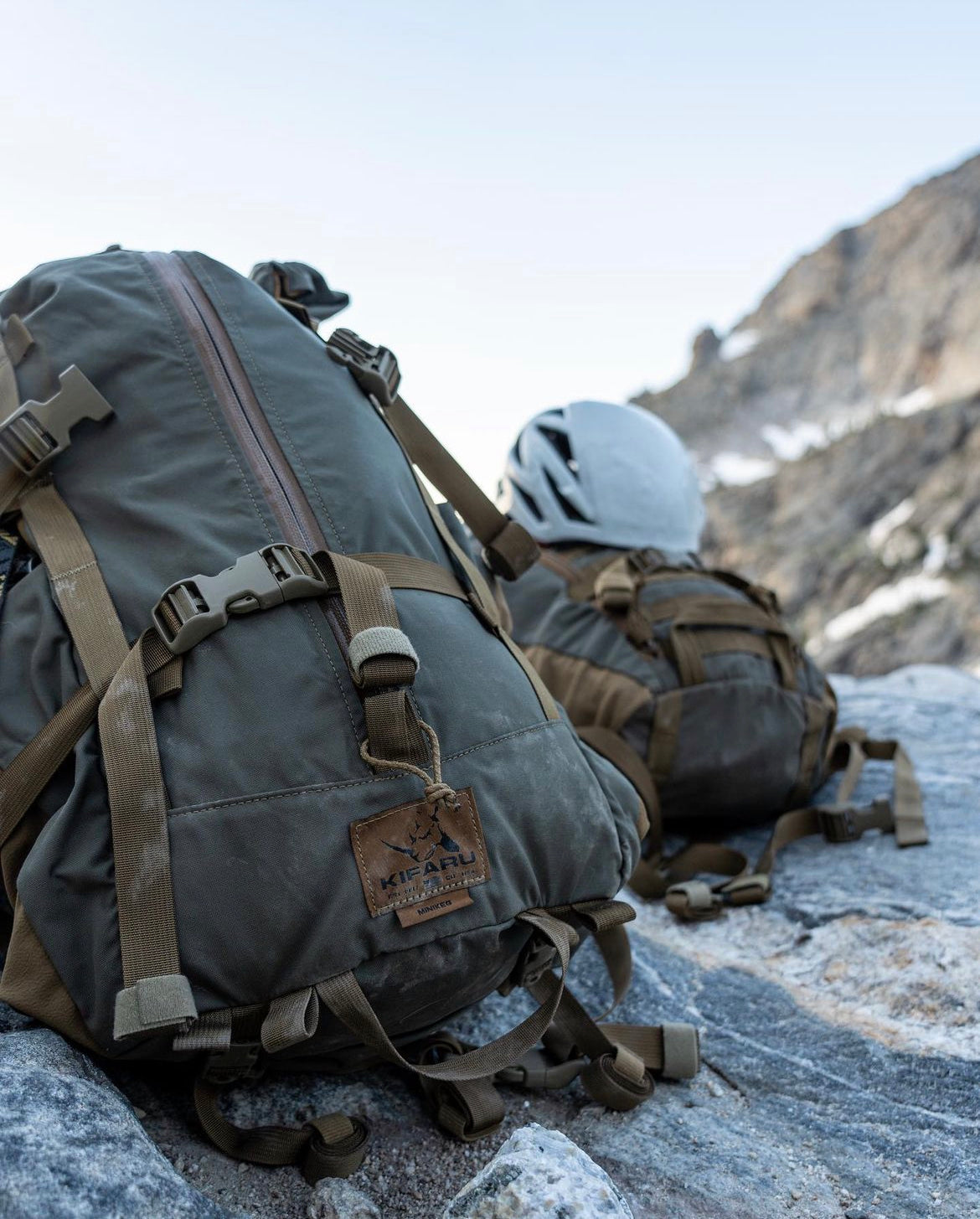 If you're packing for around five days or less and will be carrying in the range of up to 80lbs, an internal frame is a one-hundred percent viable option for you to consider–especially if you're not in the market for getting a pack and frame separately. Since the internal frames are made with all of the same parts (aside from the framesheet) as the external frames, choosing to go the internal frame route can be more budget friendly in the short-term when making your purchase. However, you will not be able to separate the pack off of the frame like you would with an external frame pack, so keep that in consideration. The other thing to keep in consideration is the sizing. The internal frame packs are each made with a set stay height and the height of the pack that you're wearing is not one size fits all. The heights come in 26" (Kutthroat), 24" (357 Mag), and 22" (Minikeg). These sizes are something crucial to the comfort of the pack load, more on the sizing later.
As with every decision, there are pros and cons of going with an internal frame versus external frame.
Pros: Bag and frame comes together = more budget friendly since you don't have to purchase both a pack and frame, plus you save weight.
Con: Bag and frame comes together = you cannot swap out the bag to a different model or use a meat shelf.
Pro: Easier to decide on which will work for you based on your sizes.
Con: Limited pack design options for each size internal frame.
In the internal frame section, Kifaru offers three different weight-bearing internal frame packs and multiple smaller packs with just internal structure, two different types of "internal frames". For the purposes of discussing internal frame hunting packs, we'll focus on the three weight-bearing options–the Kutthroat, 357 Mag, and Minikeg. All three of these internal frame packs are built with the same frame system components that are utilized in the external frames, such as the same stays, shoulder straps, waist belt, and lumbar pad. 
The Kutthroat
The Kutthroat–the largest of the three internal frame packs–is a top loading 3175ci (52L) internal frame pack with a built in hydration sleeve, vertically zippered front pocket, a stash pocket, and two water bottle pockets on the sides. The front pocket will fit most spotting scopes with room to spare and it has separate compression straps. There is a quick stash pocket behind the front pocket that is perfect to fit an extra layer / puffy jacket for quick access. The Kutthroat has built in stay guides sized to hold 26" composite or aluminum stays, combined with adjustable load lifters, and transfers the weight to your hips using our proven Duplex shoulder straps and waistbelt suspension system. You can always expand the capacity by adding any of our pack lids as well. The Kutthroat is a popular option for thru-hikers, backpack hunters, and backcountry fishers due to the large capacity, lightweight setup, high water resistance with the X-pac material, and comfort with the suspension system.
The 357 Mag
The 357 Mag picks up where the other Magnum series packs (Ma Deuce, 44 Mag, and 22 Mag) left off, but at a lighter weight. Staying true to the 44 Mag's lineage in a more compact form, the 357 Mag has two side pockets, top and panel access, and multiple zippered pockets. There is Pals webbing on the front panel and inside of the back panel to make attaching other items like belt pouches or radio mounts easy to do. The inside has two tabs for K-clip straps to secure loads like radios or meat to the back panel. The 357 Mag internal frame pack is sized to hold 24" stays and has 3 load lifter attachment points to alter the load lifter angle. The pack was designed to work with our Duplex long or short shoulder straps as well as the Duplex waistbelts that come in a variety of sizes to fit the best as possible to each user. Unique to the 357 Mag and Minikeg, you can also switch the Duplex belt for our Omni belts or no belt at all (two three bar compression straps are included in the Chamber pocket for shoulder strap connectors for running with Omni belt or no belt). The side pockets and bottom panel zippers have the lock out tabs to keep them from opening or for routing water bladder hoses through (side pockets have bladder hangers). On the front panel of the pack, there are two levels of Sherman Pocket attachment points to help adjust the height of your firearm storage. Riddled with features, the 357 was designed as the perfect for day hunters, as a ruck for military personnel, and as a popular choice as a match pack.
The Minikeg
The Minikeg is a 2800ci pack built with mostly X-pac material and is designed as one main compartment with a full length zipper running down the center to easily load and unload gear. The features are fairly minimalistic to remain lightweight but functional at just 3.81lbs. The Minikeg has a built in hydration sleeve to carry an internal bladder, dual side pockets on the outside for nalgenes, spotting scopes, or other quick access gear. The Minikeg's built-in stay guides are sized to hold 22" stays and works with the Duplex suspension system in terms of the shoulder straps and waistbelt for load bearing comfort. To use the Minikeg as an EDC pack or if you're not carrying significant weight, the Minikeg can be run without a belt by using the two included three-bar slider compression straps. There is a snow collar/roll top style lid to exend the pack upwards in the need for more space; however, if packed to the top of the 22″ stays, it is carry-on-legal hunting or hiking pack with most airlines (check the regulations per airline before flying).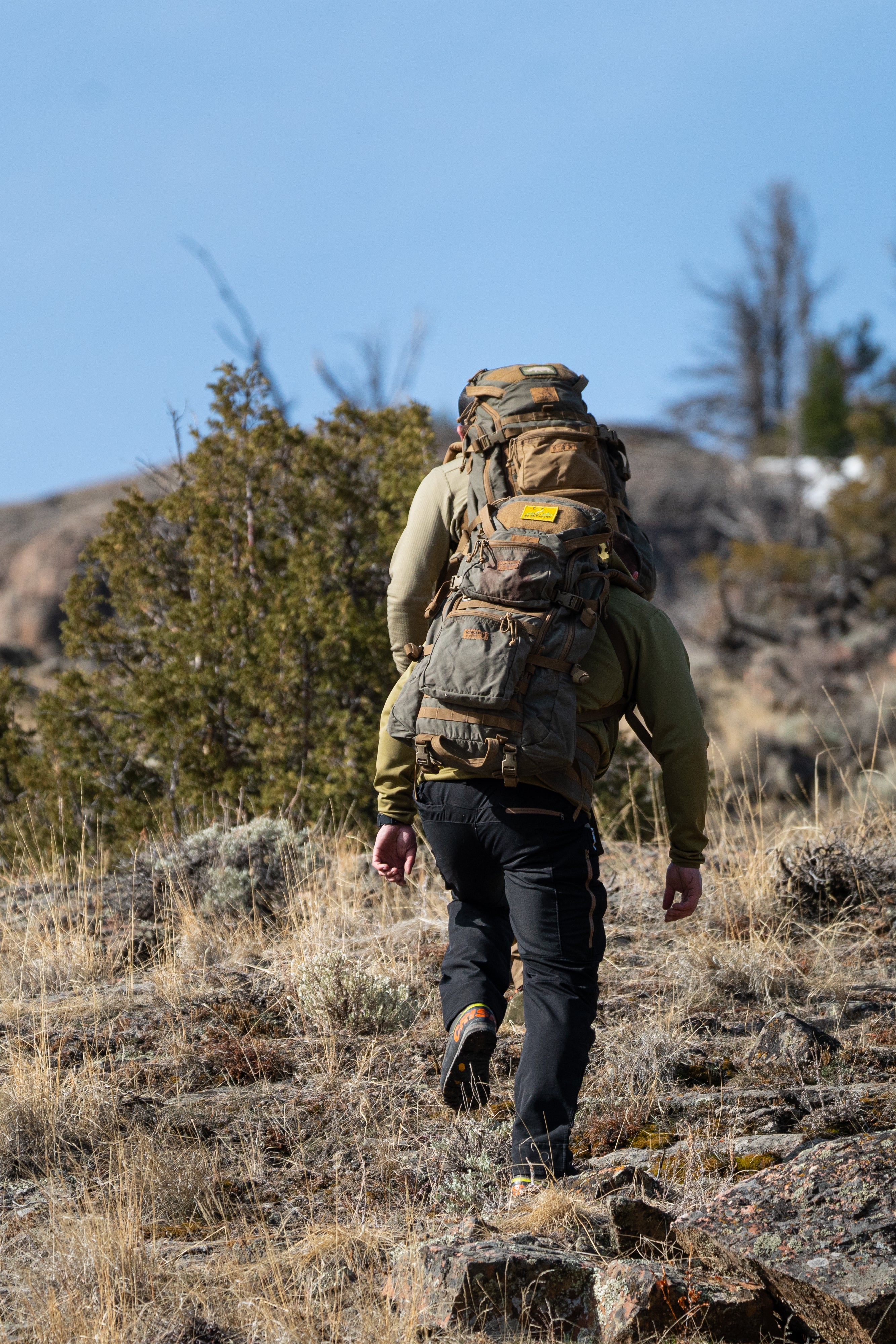 How to Choose a Pack: 
Now that the details of each internal frame pack have been covered, the way to make a decision on which one will work best for you is to go through the most frequently asked questions:
a) what are you doing with the pack
b) how many days will you be packing in with
c) if you're planning to pack out meat, do you want to put it inside or outside of your pack
d) what are your sizes (height, weight, pant waist size, and pant length/inseam)
What are you doing with the pack? The reason this question is one of the first asked is because we have customers who just want a pack to hike with versus other customers who need a pack for a specific hunting season. If a customer calls and says they need a pack for hunting, that is relatively vague. Are you talking about bird hunting, elk hunting, hunting out west, hunting out east, hunting in Africa? From there we can dive into the specific product that's going to fit the needs of the trip. Sometimes a do-it-all pack is what's needed, and this main question is the best one for our team to get a feel for what you need.
You need a pack and you're going on a trip, whether that's hunting or something else. The next questions we're going to ask is how many days will you be packing in with and if you're planning to pack out meat inside or outside of the pack? While it may seem like a nosey question, the answer tells us what capacity of packs to send you towards to take a look at what you would need. It's a general rule of thumb to anticipate 1,000ci per day that you will be out. It's important to know if the user needs to fit all of the gear to hike in with to a base camp, if they're working out of their vehicle and don't need to take all of their gear, or if they have the ability to go back to their vehicle to refill on gear for extended hunts. If a customer calls and says they have a 2-4 day deer hunt and don't want to use a meat shelf, the 357 Mag is a perfect option for our team to recommend to them. However, the internal frame packs are going to be much more dependent on the sizing of the individual wearing it. High quality packs should not come as one-size-fits-all or if they do, they need to come with some adjustment options.
When determining what pack to get, your sizing is crucial for load-bearing packs in order to achieve the most comfort possible. The sizes you'll need on-hand are your height, weight, pant waist size, and pant inseam/length. There are a lot of misconceptions about how to measure your torso size correctly, so having the other sizes available will cancel out any incorrect sizing. The leg/pant length and height are the two sizes that will determine which frame length is needed. The 26" frame length is usually the size selected for individuals with longer torso lengths, or on-average, individuals 5'11" and up (this will vary based off of the leg length). The 24" frame is usually estimated to be used by those who are 5'7"-5'10" (will vary), and the 22" frame is commonly selected with any shorter torso lengths for users who are 5'6" or less (will vary). When in doubt with any sizing, give the customer service team a call to help you with picking out the right size
Each internal frame pack will have to be selected according to the use and sizing of the user. While several internal frame packs are available from Kifaru, one may suit a user better than another. Please note that the sizing is not set in stone, and some folks are able to get away with a pack that is either taller or shorter than what would usually be recommended for them. For internal frame packs that are not usually carrying over 80lbs and have limited frame length sizing options available for each pack design, some variation in the size selections per individual is to be expected.
The last and one of the most important topics to mention is that when in the vast selection process of trying to find which pack will work best for you, personal preference is always going to be the deciding factor. If you have any questions, need assistance, or would like to look at some options of which pack would work best for you, feel free to contact the customer service team to help you narrow it down.
Photos by Aron Snyder, Way Up West Outdoors, & David DeAustin